On December 11, Leslie Hindman Auctioneers from Chicago will be selling the Estate of William Lipton. Over the past 25 years Lipton had one of the most recognizable Manhattan art galleries.
Lipton's diverse collecting taste is evident in this auction. Comprising of 457 decorative works of art and paintings from the Americas, Europe and East Asia, the sale features numerous highlights including an early 20th Century Dagobert Peche Austrian silver footed bowl (lot 245) and a circa 1955 rocking armchair by the Brazilian modernist Joaquim Tenreiro (lot 393).
However, most of the star pieces can be found in the Chinese section of the sale with its wide assortment of scholar objects, furniture, textiles, Buddhist sculptures, ceramics, and reference books.
Lot 103, Liu Dan, Green Parrot and Red Parrot, ink and color on paper; Estimate $80,000-$120,000
The top highlight is lot 103, a set of colored ink paintings depicting 'a Green Parrot and Red Parrot' by Chinese contemporary master Liu Dan. Liu Dan's works are some of the most sought-after pieces in today's market. Trained in traditional Chinese painting, he moved to the USA from Hangzhou China in 1981, where he worked in Hawaii and New York until 2006.
Liu Dan is especially renowned for his hyper-realistic depiction of landscapes, trees and scholar stones. These paintings are highly detailed and his inanimate subjects are infused with their own complexity and liveliness.
This painting of 'Green Parrot and Red Parrot' was Liu Dan's commission work to William Lipton in 2003. They depict Lipton's own pets, and imbue the sensitivity of the prized companions. This set of paintings has a conservative estimate of $80,000-$120,000.
Lot 23, Eighteen Blue and White Porcelain and Cloisonné Enamel Birdfeeders; Estimate $6,000-$8,000
Birds were a favorite subject of William Lipton's collection. This is most evident in the numerous objects in the sale that either depict birds, or deal with bird keeping. In addition to the wide assortment of birdcages are dozens of birdfeeders. The most impressive set is lot 23, a group of eighteen blue and white and cloisonné enamel bird feeders.
Though functional, each of the individual feeders can be considered works of art in their own right. They are all of various sizes and shapes, and feature numerous individual designs including landscapes, florals, and classical Chinese archaistic patterns. This grouping has an estimate of $6,000-$8,000.
Lot 79, Large Zitan Leaf-Form Tray; Estimate $4,000-$6,000
William Lipton was also a collector of furniture and scholar objects. One of the most interesting pieces is lot 79, a large zitanleaf-form tray. Zitan (purple sandalwood) is considered one of the most luxurious materials for producing furniture and scholar objects. It is an extremely slow-growing species of hardwood with Chinese imperial connections, and when examined closely, the wood has a dark purple tone and fine graining that resembles slivers of gold thread.
This unusually large zitan tray is expertly carved to resemble a large leaf and would have been placed on a scholar's desk to hold writing implements. It carries an estimate of $4,000-$6,000.
Lot 177, Sydney Edward Lucas, The Catalogue of Sassoon Chinese Ivories, $2,000-$3,000
Finally, the Estate of William Lipton at Leslie Hindman auction features rare Chinese Art reference books. Lipton was well known for his meticulous research and scholarship on every object that passes through his gallery. A notable group is lot 177, Sydney Edward Lucas's 'The Catalogue of Sassoon Chinese Ivories'.
Published in 1950, this is one of the most extensive books on Chinese ivory carvings. It features the vast collection assembled by Shanghai-based land developer and hotel magnate Sir Ellice Victor Sassoon (1881-1961). Sassoon's trust recently donated over 500 pieces of this ivory collection to the British Museum in London. The set of important books has an estimate of $2,000-$3,000.
Click here to view the full Leslie Hindman Auctioneers, The Estate of William Lipton sale catalog coming up on December 11th.
Don't have a Bidsquare account? Sign up here!
Be in the know about upcoming auctions and exciting post-sale results by following us on Facebook and Instagram.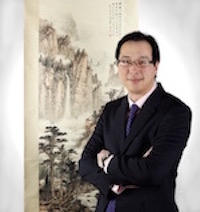 Anthony Wu is an Asian Art consultant, researcher, writer based in Toronto, Canada. After working eleven years as the Asian Art specialist at two of Canada's largest regional auctions, he started his own art advising firm where he consults for various auction houses, museums, and private clients in Canada and the USA. He is a certified Chinese Fine Art appraiser with the Appraisers Association of America.