The Delaware River Valley, with its lush rolling hills and verdant forests, has long attracted artists and designers of the highest caliber. Situated along the Delaware River, Rago Auctions has enjoyed the privilege of seeing hundreds of exemplary works by these artists and craftsmen pass through their auction house. Rago's Modern Design auction on January 22 continues this tradition, offering for sale over 50 works by Delaware Valley Modernists including George Nakashima, Phil Powell, Paul Evans and Wharton Esherick. Rago Auctions sat down with their 20th/21st Century Design Specialist, Jad Attal, to discuss a few of his favorite pieces.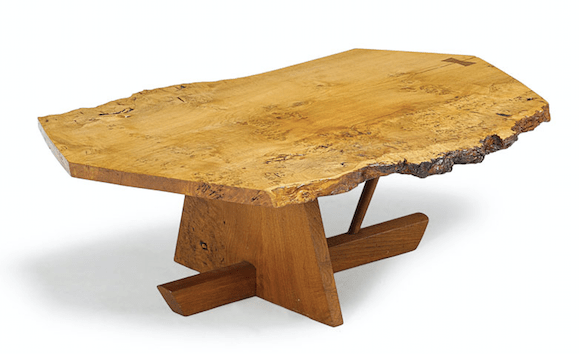 Lot 1012 – George Nakashima, Fine Minguren Coffee Table, Nakashima Studio, New Hope PA, 1987
Lot 1012 exhibits nearly every feature of a great George Nakashima creation. Made of rare and desirable English oak burl, this Minguren coffee table is several strata above his Slab tables. Named after the pavilion on the Nakashima grounds where it was made, its engineering features a dramatic overhang and a distinct tectonic profile.
Owing to their top-tier wood selection and hefty price-tag, creations from the Minguren line were generally commissioned by Nakashima's most well-heeled and appreciative clients. In other words, Nakashima's greatest creative expressions were, by design, accessible to only those who truly connected with his artistry. The filters included: the rarity of the wood, which resulted in an extensive wait time to fill an order; the expense, which was generally more than the typical middle-class client wanted to spend; and a meeting with George himself, which more often than not was a catalyst for a lifelong relationship between the artist and his clients.
Lot 1023 – Phil Powell, Fine 3-seat Sofa, Sculpted walnut, upholstery; New Hope PA, 1960s
Lot 1023's scale, its clean lines, and its evocation of the natural world exemplifies why Phil Powell pieces are so wonderful to live with. Powell produced several different lines, so there is some repetition of form in his work, and his use of walnut and gracefully carved shapes evoke the sensitivities of so many other great American Craft figures. That said, his design canon is both artful and unique.
Powell placed many of the pieces in client's homes himself. Often, he'd visit for a meal and sell his client a vision, like a whole home filled with his pieces. It might start with a side table or a chair. If the client loved these smaller pieces, Powell would offer to produce a larger, more substantial piece - like this stunning sofa - a top example of all of these attributes and one of Attals favorite Powell designs.
Lot 1001 – Paul Evans, Custom Sculptured Metal Wall-hanging Cabinet, Paul Evans Studio, USA 1960s
Lot 1001 is a rare and special hanging cabinet by Paul Evans. Evans possessed the ability to synthesize the counter-culture values of the 60s and 70s with heirloom quality production. All his singular objects were commissioned by clients that met with Evans personally and were charmed by the work, the man, or both. Attal knows this to be true because many of Ragos top pieces are consigned by the original owners who are eager and excited to share their experiences with them.
As for the aesthetics of this piece, Attal admits that when he first discovered Paul Evans' Sculptured Metal line, warming up to it was difficult. These pieces are anything but pretty in any conventional sense of the word. The Sculptured Metal line consists largely of tortured metal surfaces applied to hulking forms and the overall look is best described as "brutal". But he has been won over by the innovation in materials and applications on display in these works. The bronze finishes and composites that give the surfaces relief were invented by Evans and his staff, as were the surface motifs, like the repeating odd geometries of this piece that seem to jump into and out of the surface structure. Their creation required an intense and admirable discipline.
Click here to browse the upcoming Rago Auctions, Modern Design sale on January 22 starting at 11:00am EST.