Have you ever thought about what your coffee table would look like as a skyscraper? Paul Evans certainly did. One of the most influential makers of contemporary American furniture, Paul Evans inspired a generation of designers to consider 20th Century Modernism with fresh eyes. Evans work pushes the boundaries of the modern aesthetic, merging it with folk art forms and new materials.
Paul Evans at work, photo source: Lux / Eros
Before becoming a furniture designer, Paul Evans trained and studied extensively in both the arts and metalworking. Born in 1931 in Pennsylvania, Evans attended to the renowned Cranbrook Academy of Arts in Detroit at the age of 21 where he studied modern design and art. After graduating, Evans found work at Sturbridge Village in Massachusetts where he gave presentations as a silversmith. Largely owing to this early experience working around metal, Evans utilized metal as the primary material for his art rather than wood.
Evans introduced several series of furniture lines including his Argente series, Sculpted Bronze series, Sculptured and Painted Steel, Patchwork Copper, Pewter and Brass, and the popular Cityscape series. The first was his expressive Sculptured Bronze work, which started in the mid-1960s. For this series, Evans hand-shaped resin and sprayed it with a metal coating, in order to use the nuances to create distinctive chairs, tables and cabinets.
Paul Evans chest from his Sculptured Bronze series, photo source: Décor Arts Now
In the 1970s, Evans began his Argente series, which consisted of furniture featuring aluminum and pigment infused metal surfaces shaped into abstract forms. Lot 1033, a patchwork mirror in Ragos upcoming Modern Design auction on October 16th shows off Evans Argente series featuring pigmented metal.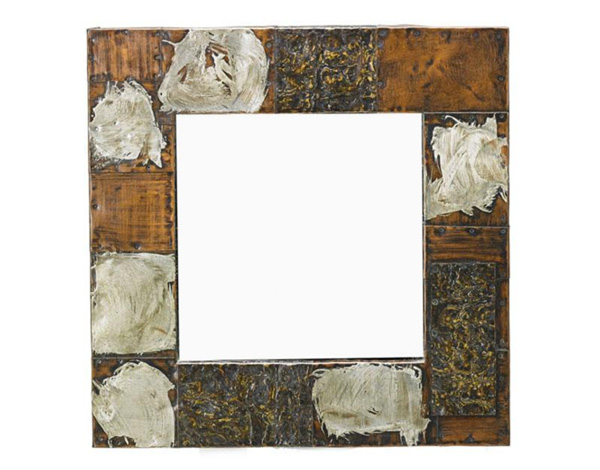 Paul Evans, Patchwork mirror in Ragos October 16 Modern Design auction
Evans Cityspace designs convey the sense of "high tech" which was popular during the late 1970s. Evans built shapes in boxes and decorated them with irregular mosaic patterns mixing rectangular pieces of colored steel and bronze. Lot 1026, a skyline coffee table in Ragos upcoming auction represents the Cityspace series well.
Paul Evans, Skyline coffee table in Ragos October 16 Modern Design auction
Finally, Paul Evans sculptured front furniture is a very recognizable and well-known. Lot 1020 in Ragos upcoming auction shows off this style.
Paul Evans, Sculpture Front cabinet in Ragos October 16 Modern Design auction
Browse all upcoming works on the Square by Paul Evans here and Ragos upcoming October 16 Modern Design auction catalog here.