Do you ever wonder what famous chef's are cooking at home? Are they settling for a late night grilled cheese or perfectly pinching handmade pierogies? When top industry elites do for themselves, what they vehemently do for others, what decisions are being made?
The same question stands for interior designers. Didier Gomez, an expert talent who has reimagined private homes for the likes of Pierre Bergé of Yves Saint Laurent and retail treasures such as Céline, Christan Dior, De beers and Louis Vuitton as well as the Renassance République, Marriott in Paris – also has a space to call his own.
Taking his early career as an opera singer into consideration, it isn't surprising to notice how Didier Gomez employs a chorus of time periods with oscillating volumes of background noise into his home decor.
We scanned the platform for past auction items and upcoming selections that echo the creative license that drives Didier Gomez - and we're starting with crushed velvet...
Lot 714, Italian Style, Pair of lounge chairs, Late 20th century; Estimate $700 - $900
True blue, baby, I love you! Rich in texture and saturated with color, these icy Italian lounges have yet to be auctioned! Click here to view the full catalog for Rago Unreserved Session 2 sale coming up on February 24th.
Lot 206, Victor Vasarely, Prividje, Oil on board; Sold for $23,750
We're taking multiple directions from those two Victor Vasarely paintings hanging next to each other. Click here to view upcoming works by Victor Vasarely this month to opt into the Op Art look!
Lot 1136, Wendell Castle, A Molar Group Settee, Circa 1969; Sold for $4,127.50
Although, we've sold many Ribbon Chairs by designer Pierre Paulin, like the one pictured in our interior inspiration, we felt that this stark white Molar Settee clenched the mood a bit more!
Lot 93, Jun Kaneko, Untitled "dango", closed ceramic form, 2009; Sold for $15,000
Arranged like notes scribbled down on sheet music, Gomez continues his black and white motif by adding a variety of ceramics to his linear ledges. Click here to view all upcoming ceramics this month!
Lot 1257, T.H. Robsjohn-Gibbings, Biomorphic Coffee Table, Grand Rapids, MI 1940s-50s; Sold for $5,625
Too much of anything isn't a good thing! Bring a dash of warm wood into your space, like this stylish coffee table, to keep the vibe from feeling sterile. Click here to view all upcoming coffee tables.
Lot 1721, Harry Bertoia, Prototype Diamond Chair, Pennsylvania, 1950s; Sold for $6,250
Stand alone classics like this Diamond Chair by Harry Bertoia can add some serious punctuation to the message your design is dishing out. We've got one coming up just like it! Click here to view the 'Wire Bird Chair and Ottoman' featured in Stair Galleries, Art & Design sale on February 17th.
Lot 1115, Antonio D'Acchille, Fiume (Narciso), Oil on canvas, 1989; Sold for $1,722
Ushering in works by the Old Masters or revival Renaissance can bring an unexpected and timeless air to your home- especially when modernity seems to be monopolizing the mood! Click here to browse all Fine Art coming up this month!
Lot 736, Toshiyuki Kita; Luci Italia, Pair of "Tomo" adjustable halogen floor lamps, Italy, ca. 1980s; Estimate $500 - $700
We have 100+ lamps up for the taking this month! Take advantage of Rago's Unreserved Session 1, Session 2 and Session 3 sales to brighten up your space with accessibly priced, vintage lighting options! Click here to view all upcoming lamps at Rago.
Don't have a Bidsquare account? Sign up here!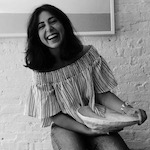 Jessica Helen Weinberg | Senior Content Editor at Bidsquare
Be in the know about upcoming auctions and exciting post-sale results by following us on Facebook and Instagram.