The leaves may be falling as autumn hits Pennsylvania, but auction prices across all categories seem to have caught an updraft. Pook & Pook's largest catalog ever was received with such enthusiasm you'd think the pages were sprinkled with pumpkin spice. Out of the 1006 lots offered, 981 sold, yielding a 97.5% sell through rate. In-house live, phone, and absentee bidders numbered 358, while cyberspace bidding stole the show with 1,931 bidders registered across two platforms.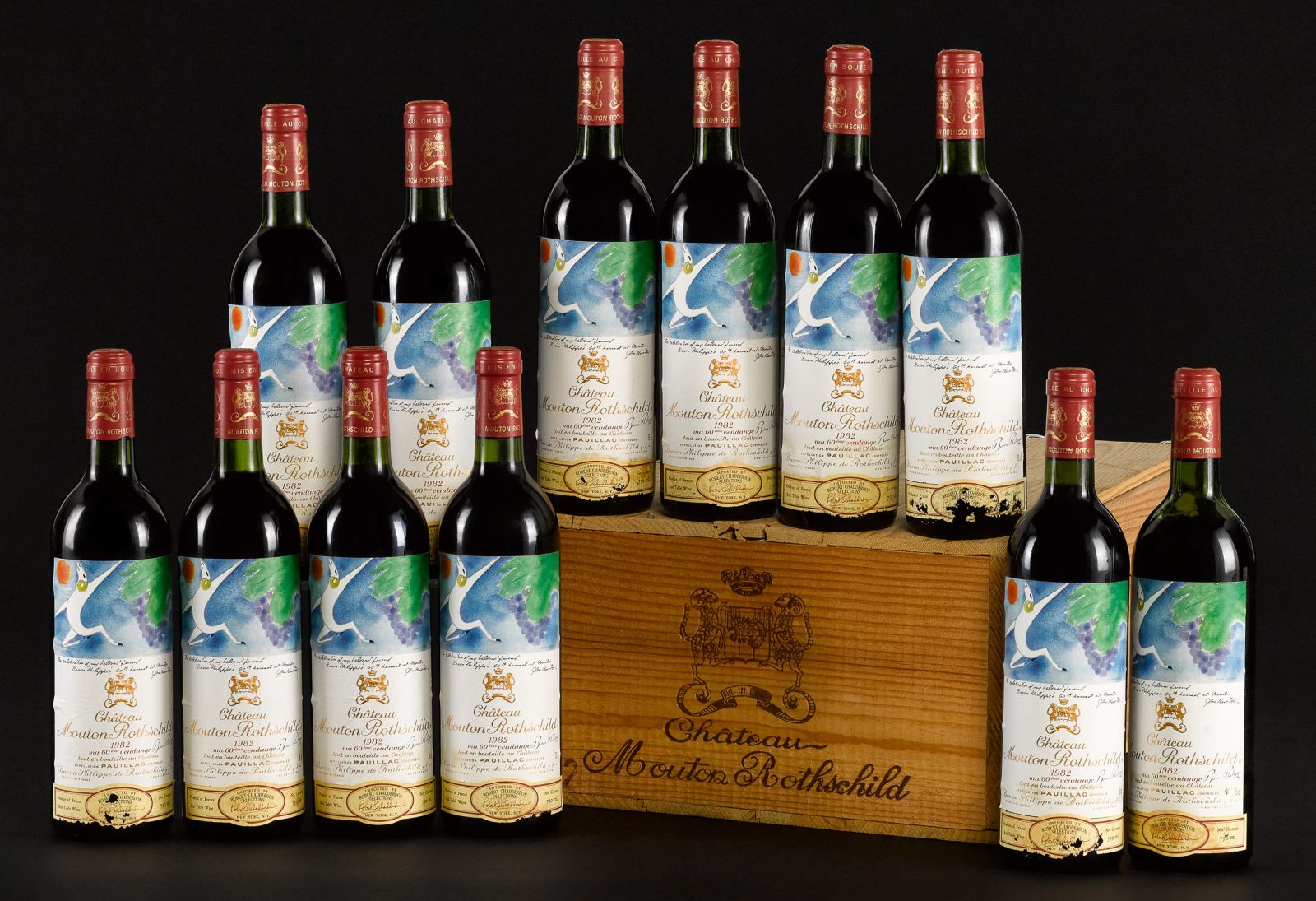 Lot 1, Chateau Mouton Rothschild 1982, 12 bottles; Sold for $7,930
Session one began at 6PM on Thursday, October 3rd, following a special extended preview and reception. One hundred and nineteen lots went under the gavel that night, starting with fourteen lots of wine from a Berks County estate. The consignor's proceeds from the sale of this wine will be donated to The Shakespeare Festival in Center Valley, Pennsylvania. A lot of twelve bottles of Chateau Mouton Rothschild 1982 brought $7,930. The oenophiles really bid strong on a lot of twelve bottles of Chateau Lafite-Rothschild Pauillac 1982, which after some very active bidding brought $14,640. The first session continued with a group of over one hundred lots of ancient art and antiquities from a Pennsylvania estate. Most of the lots came with extensive paperwork documenting their provenance and all were examined by an ancient art specialist in addition to Pook & Pook's own appraisal team. The collection was offered roughly in date order starting with Egyptian pre-dynastic pieces from about 3000 B.C., followed by Luristan bronze daggers, ca. 1500-800 B.C., and then Bronze Age European pieces, followed by Luristan weapons, 1500-800 B.C. Then from the era of around 4th c. B.C. to 7th c. B.C. we saw Cypriot, Messapian, Mycenean, Corinthian, Villanovan, and Etruscan objects, with an emphasis on pottery pieces. Bronze bowls with Near Eastern origins follow, dated to around the 1st c. B.C. as well as Attic black figure trefoil oinochoes. An Apulian red figure oinochoe caught the eye of at least a couple Greek enthusiasts with the bidding ending at $8,125. A Roman silver kantharos, ca. 1st or 2nd c. A.D. fetched $6,710, while a Greek bronze pilos helmet, ca. 4th-3rd c. B.C. brought a healthy $4,636. A plethora of Roman iron gladii traversed the auction block, all dated to approximately 1st or 2nd c. A.D. and selling for around $1,830 each. Multiple Apulian pieces will come in towards the end of the night, including an Apulian red figure pyxis with elaborate decoration from the 4th c. B.C. that garnered a final price of $3,172. Not surprising, an Apulian red figure fish plate, complete with a fabulous image of a squid, came in strong at $4,880. Perhaps one of the biggest surprises, though not the highest price by any means, was the gold Viking ring, whose interest ranged from phones to internet to absentee bids and back again. It finally settled at $2,928, over twice the mean estimate.
Lot 120, Rare and important Charleston, South Carolina Chippendale mahogany"French" chair, ca. 1770; Sold for $85,400
Session two started out strong with the Americana & International material being led by the Collection of Daniel and Mary Jane Sheppard of Lutherville, Maryland. Mr. and Mrs. Sheppard began collecting antiques in the early 1980s focusing on American furniture and paintings. First up in their collection was a rare and important Charleston, South Carolina Chippendale mahogany "French" chair, ca. 1770, which soared past its $20,000-$40,000 until the bidding finally ceased at a realized price of $85,400. Highlights from their collection included a Philadelphia Chippendale dressing table, ca. 1765 ($19,520), a pair of New York Chippendale mahogany dining chairs, ca. 1770 ($5,124), and an important Philadelphia Chippendale games table ($29,280). Various other pieces of Pennsylvania furniture, art and decorative accessories rounded out this wonderful collection. A Hudson River landscape attributed to Alvan Fisher was a surprise sleeper hit, bringing twice its estimate when it came in at $4,636. A Queen Anne walnut stool also surprised everyone when it came in at ten times its low estimate bringing $4,000. The collection concluded with a group of New England items and a handful of English and continental pieces of fine art and decorative accessories. The star of the Sheppard collection, however, was an important Philadelphia Chippendale mahogany pie crust tea table, ca. 1750, which more than doubled its high estimate coming in at a realized price of $97,600.
The majority of day two was filled with pieces from the mid-Atlantic region of the United States, with a few notable exceptions. The second session continued with the Estate of August Knapp of Hudson, Ohio. His collection included a variety of Pennsylvania and New England furniture and decorative accessories. A Pennsylvania chalkware owl was one of the highlights of this collection. Estimated at $500-1,000, the bidding took off and landed at $1,625. The other big surprise in this collection was a New England painted basswood work table. Originally expected to bring just $800-1,200, bidding from all corners of the auction gallery brought the final price up to $3,250. When a Pennsylvania painted bellows lot with its original vibrant red surface and makers label for Henry Porter Philadelphia hit the block, James Pook declared from the podium that it was the "best" he had ever seen. They huffed and puffed and came in at $1,220, over twice the high estimate.
Lot 266, Historical Blue Staffordshire medallion plate; Sold for $3,172
Historical Blue Staffordshire from a prominent New England Collection followed with almost fifty lots including a variety of patterns such as Columbus, Landing of Lafayette, Christianburg Danish Settlement on the Gold Coast Africa, Passaic Falls State of New Jersey, Almshouse New York, and Lafayette at Franklin's Tomb. The highlight of the collection was a Historical Blue Staffordshire medallion plate depicting Washington and Lafayette above the New York City Hotel and View of the Aqueduct Bridge at Little Falls, which brought a realized price of $3,172.
Next up was an eclectic Pennsylvania collection of advertising and contemporary art. Highlights of this unusual collection included a scarce Devoe Paints & Varnishes tin lithograph advertising flange sign ($3,904) and an unusual painted pine gaming wheel ($2,125). A collection of spatter from a prominent Montgomery County, Pennsylvania collector brought strong prices including two red spatter plates with stars that brought $2,250. Pook & Pook was up to their eyeballs in William and Mary wainscot chairs, some with arms, some without, all found new homes. A fantastic Pennsylvania maple and burl veneer dresser cabinet garnered a lot more interest once we posted some additional photographs of the inside. The estimate of $1,500-2,500 was beat when the lot came in at a comfortable $3,660.
Lot 374, Lancaster County, Pennsylvania painted pine two-part architectural corner cupboard, ca. 1785; Sold for $23,180
An incredible Lancaster County, Pennsylvania painted pine two-part architectural corner cupboard, ca. 1785, with a provenance difficult to beat having passed through the collections of Dr. & Mrs. Donald Shelley, Titus Geesey, Edgar and Charlotte Sittig, and finally the current consignor, a prominent Delaware collector, started off slow, but quickly gained bidding momentum. The bidding flew past the low and high estimates and finally stopped at $23,180. A large painted splint feather basket offered in the second session also took the audience by surprise. The splint feather basket sported a reasonable estimate of $300-500, but bidders had other ideas and the basket finally settled at $3,416. A variety of pieces were knocked down on day two. Fraktur, folk art carvings, stoneware, redware, chalkware, ironware, woodenware, and hooked rugs permeated the sale. A carved and painted Native American cigar store Indian princess figure, probably by New York artist Samuel Robb, was expected to bring $5,000-$8,000, and came in at a realized price of $11,590. A surprise to those who appreciate samplers and needlework was an unfinished Massachusetts silk on linen sampler. Originally expected to bring $400-700, this exciting piece from the Estate of Charlene Sussel was bid up to a final price of $3,172. A credenza or room divider by American artist George Nakashima complete with a free form top and two pandanus cloth sliding doors out of a Bethesda, Maryland estate came in at $15,860. The final surprise of day two was an Anna Pottery stoneware frog inkwell, which brought over three times its mean estimate coming in at $6,100.
The prices for blue painted furniture are still going strong with several pieces coming in strong including a Pennsylvania hanging cupboard ($5,856), a Pennsylvania house marker ($1,159), a miniature blanket chest ($1,500) and a table top apothecary cabinet ($1,875). But, this year small tables seemed steal the show. An unusual looking painted pine work table with a single drawer and scalloped sides brought $3,660 (est. $500-$1,000). A small Pennsylvania walnut tavern table came in at $3,172 (est. $400-800). A Queen Anne painted pine and poplar splay leg table with an old scrubbed blue surface came in at $6,710 (est. $500-1,000). A diminutive New England salmon painted pine tavern table brought $2,375 ($400-800). A Pennsylvania walnut splay leg stand almost quadrupled its low estimate bringing in $7,930 (est. $2,000-3,000). On Bidsquare alone it had 29 bids, not to mention all of the interest elsewhere. And the list just went on and on, the audience could not get enough of cute small tables.
Lot 566, Ernie Eugene Barnes Jr., Quintet, Oil on canvas; Sold for $34,160
Session three, the final session, took place on Saturday, October 5, starting at 9AM with a selection of American fine art. Artists featured include Ernie Eugene Barnes Jr. ($34,160), Franklin Courter ($7,500), Moses Soyer ($1,342, $1,220, and $2,684), and Rockwell Kent ($1,464, $1,037, $671, and $5,000). European artists followed with pieces by William J. Webbe ($21,960), Nicola Simbari ($1,342 and $1,220), Jean Dubuffet ($4,500 and $6,250), Francisco de Goya y Lucientes ($9,760), and Pablo Picasso ($11,590). The art finished up with the Collection of Ambassador Robert and Mayrose Stausz-Hupe, the highlight of this collection being a work titled "Four Pears" by Eliot Hodgkin ($29,280). This piece will be included in the catalogue raisonné of the artist.
Lot 818, 18K yellow gold Carimati beaded blue sapphire and diamond necklace; Sold for $11,590
The sale continued with a variety of exciting consignments, the majority of which had origins in New England and Europe. That said, several highlights still had their origins in Pennsylvania, including a Lancaster Pennsylvania blanket chest dated 1780 that brought $5,612 and a rare miniature Pennsylvania Chippendale walnut slant front desk, which brought $14,640. A Pennsylvania walnut spice chest skipped past its high estimate of $2,000 and landed at $6,875. A Massachusetts Chippendale mahogany secretary with an oxbow case and ball and claw feet brought $12,200. A fantastic Connecticut Pilgrim century joined oak Sunflower chest, ca. 1700, is heavily carved and decorated and brought $11,590. An 18K yellow gold Carimati beaded blue sapphire and diamond necklace brought $11,590. This was followed by a mid-century platinum and diamond necklace from a Lancaster, Pennsylvania collection containing 237 diamonds of various cuts and weights that brought $18,300. Next up in this collection were twenty lots of glass, including pieces from the Boston and Sandwich Glass Company, Stiegel type examples, and a number of ribbed glass flasks. The highlight of this grouping were the midwestern pieces, including two glass scroll flasks from the mid 19th c. that brought $2,928. The Lancaster collection concluded with a pair of English silver covered vegetable dishes, 1817-1818 that brought $4,636. Coin silver flatware, teapots, creamers, child's mugs, and ladles continued the auction. Four fabulous English Britannia silver candlesticks from a New York estate brought a whopping $20,000. That was followed up by some eager bidding for an English silver tankard, 1693-1694, that brought $6,710. A Samuel Robb cigar store Native American Indian Princess in this collection was rapidly gaining speed between the floor, the internet and the phones before a phone bidder finally won the lot for $18,300. A cool carved and painted eagle wall plaque by John Haley Bellamy with a banner that read "Don't Give Up the Ship" didn't give up the bid coming in at $14,640. Possibly the most incredible pieces in this collection was a painting of crowds watching a soccer match by Haitian artist Philomé Obin. The auctioneer did not call offsides on this one when it realized $20,740. The sale concluded with a selection of carpets, including a Serapi example that brought $9,375.
After three days of auction, the total realized came in at $1,977,596.