Collectors are set to break out of the summer slowdown with Pook & Pook's two-day September Decorative Arts sale. Offering a combined total of over 1,200 lots, this two day sale is chock-full of a variety of unique items that are accessible to enthusiasts on any budget. This is an online only sale exclusive to Bidsquare, so kick back in the comfort of your own home and join the online auction!
Lot 55 - four pieces of teepee pattern spatter, including a sugar bowl, a blue saucer, a red and a green plate
Wednesday, September 14 kicks off with a bang when over sixty lots of spatterware go under the hammer. A broad term for pottery with colors that look spattered or sponged onto its surface, it was first crafted in England around 1780, and is usually called spongeware in European circles.
Country and folk items are set to shine in this auction, which include large amounts of ironwork, toleware, stoneware, chalkware and painted items. Lot 93 (above) is a classic piece of old school design, a wrought iron toaster that recalls a time when people cooked outdoors in wide open spaces.
Day 1 of the sale also features artwork, over fifty handmade quilts, including several Amish and early 20th Century examples, and a great array of furniture. Lot 269 (above), a Kittinger mahogany sofa, is the perfect piece for that sitting room in drastic need of an upgrade.
Lot 878 (left), a Tiffany & Co. silver tea kettle, and Lot 873 (right), Gorham repousse sterling silver kettle
Thursday, September 15 takes a different tone with over 100 lots of sterling silver, including an exquisite Tiffany & Co. silver tea kettle and stand (above left) as well as multiple tea sets and other tablewares.
Lot 1199 - Charles Dickens, Dombey and Son, first edition, Bradbury & Evans, London, 1848
The silver is followed by several fine jewelry pieces and a group of unique book offerings. Bidders can purchase classic first editions and signed works by Mark Twain, Ernest Hemingway, John Steinbeck, George Bernard Shaw, Joseph Conrad, Sir Arthur Conan Doyle, Eugene ONeil and Charles Dickens.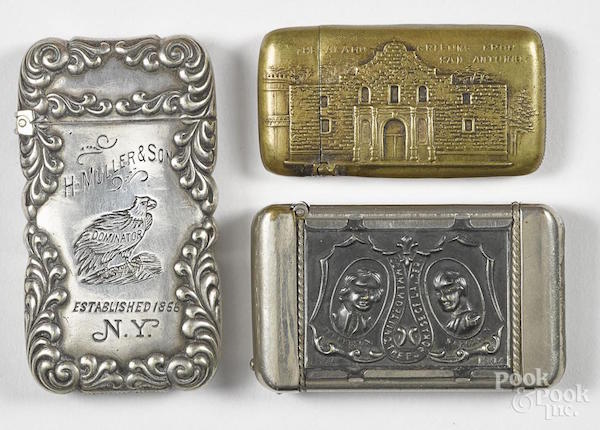 Lot 1260 - three advertising match vesta safes
The sale finishes up with a group of match safes, or vesta cases, of which Pook & Pook has featured many large groupings over the past year. These fascinating pieces always capture the imagination of collectors with their great diversity and strong sense of nostalgia.
Pook & Pooks Decorative Arts sale is set down for Wednesday, September 14 and Thursday, September 15, and contains over 1,200 expertly curated lots. Look now at the full catalogs.