Stunning Arts Gallery and Auction from Toronto, Canada will be featuring almost 300 lots of Chinese art during their auction on June 19th. This sale will take place during the Toronto Asian Art Week from the 17th to 21st of June.
Most Chinese art categories are represented including jade carvings, furniture, jewelry and paintings. However, the strength is really with works of art and porcelain, with many of these objects having solid provenances.
Lot 106, Xu Yanzhou, Oil Painting; Estimate CAD $15,000- CAD $25,000
One of the highlights of the Stunning Arts Auction is lot 106, an oil painting of a young girl by Xu Yanzhou 徐彥洲 (1961- ). Xu is one of the leading 'realist' modernist painters in China, and has extensively showcased his artworks in the international art scene. Implementing a Western-style of painting, he is best known for depicting Chinese rural subject matter including farmers, young children, livestock and villages.
This painting was originally sold in 1993 at the Nancy Poole Gallery in Toronto and was later exhibited at Hong Kong's Chinese University exhibition 'Writing the Mind: Paintings by Xu Yanzhou' in 2008. The current owner is Toronto's prestigious Cowperthwaite Collection, and the painting has an auction estimate of CAD $15,000-$25,000.
Lot 227, A Rare and Fine Huanghuali Box, 18/19th Century; Estimate CAD $15,000 - CAD $20,000
Lot 227, a Chinese huanghuali 黃花梨 box, is another choice work at the Stunning Arts Auction. This box would have been used by scholars to store their valuable documents and it comes from an extremely important Vancouver collector.
It features the grace and simplicity that makes these types of scholar objects extremely desirable, and the entire surface maintains the immaculate graining associated with this rare species of hardwood. The top in particular is cut from a single piece of huanghuali and enhanced by natural 'ghost face' burls that are extremely sought after by collectors. This fine box carries an estimate of CAD $15,000-$20,000.
The Stunning Arts sale also features a wide selection of jade carvings of which lot 229 is one of the more interesting examples. Despite its smaller size, this cat group is especially well-carved and has an endearing quality.
Cats can symbolize longevity in Chinese culture, and in this case, the idea of long life is enhanced by the way both the adult cat and kitten are sharing a branch of sacred lingzi 靈芝fungus (the fungus of immortality). With a conservative estimate of CAD $3,000-$4,000, this carving was acquired by Toronto's Maklaiheung Gallery from Sotheby's New York back in 2000.
Lot 59, Famille Rose 'Quails' Jardinere, Hongxian Mark; Estimate CAD $2,500- CAD $3,500
As mentioned earlier, the Stunning Arts sale features a wide selection of Chinese porcelain. One of the highlights is lot 59, a famille rose 'quails' jardinière. This jardinière is delicately decorated with two quails amongst florals and rockery. Quails symbolise peace and prosperity in Chinese culture, making this a perfect gift for someone who wants to carry these virtues.
With an estimate of $2,500-$3,500, the jardinière originated from the estate of Sear Hang Hwie Pao (1937-2009), one of Canada's leading dealers of Chinese porcelain and works of art. His antique store, Pao & Moltke Ltd., was a fixture in Toronto's trendy Yorkville area from the 1980's to early 2000's.
Another interesting piece of porcelain is lot 249, a pair of gilt decorated turquoise glazed planters. Dated to the Daoguang Period (1821-1850), the design and shape of these planters pay homage to Imperial examples of the 18th Century. The lotus blooms and scrolling vines are extremely well-painted in gold, and these types of wares would have adorned the home of a high ranking official or noble.
Lot 252, Blue and White Figural Bowl, Kangxi Period; Estimate CAD $5,000- CAD $7,000
Lot 252, a blue and white bowl from the Kangxi Period (1662-1722), is another good example of Qing Dynasty porcelain. It comes from the estate of a former Canadian civil servant who was a collector of Chinese antiques mainly during the 1970's and 80's.
This bowl features a series of vignettes from the classic Yuan Dynasty Chinese novel 'Romance of the Western Chamber' 西廂記. The figures and scenes are painted especially well and this bowl would be of interest to both porcelain collectors and those interested in Chinese literature. This bowl has an auction estimate of CAD $5,000-$7,000.
Click here to view the full catalog of Stunning Arts Gallery and Auction on June 19.
Don't have a Bidsquare account? Sign up here!
Be in the know about upcoming auctions and exciting post-sale results by following us on Facebook and Instagram.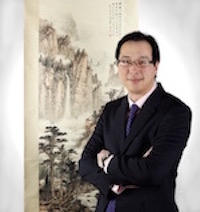 Anthony Wu is an Asian Art consultant, researcher, writer based in Toronto, Canada. After working eleven years as the Asian Art specialist at two of Canada's largest regional auctions, he started his own art advising firm where he consults for various auction houses, museums, and private clients in Canada and the USA. He is a certified Chinese Fine Art appraiser with the Appraisers Association of America.