On the weekend of June 7-8, Stair in Hudson, NY will host a series of auctions offering an emphasis in the 20th century, modern and contemporary art. Highlighted as a sale of its own, with several works finding their way into the other Stair catalogs, is a significant bounty of prints, photographs, and sculptures by German avant-garde artist Joseph Beuys. A titan of conceptual art, Joseph Beuys is admired for his intimate contributions to movements such as Fluxus and Neo-Dadaism. Stair represents his breadth of work like a comprehensive syllabus where mixed media assemblages such as lot 409a, a lemon attached to a yellow light bulb, and ready-mades like lot 16, a 'Noiseless Blackboard Eraser,' exist in the fascinating, deadpan posture that blurs art and daily life, for which Beuys is keenly appreciated.
Other influential artists to be featured in Stair's sales include Armando Morales, Jeff Koons, Joan Miró, Theodoros Stamos, Richard Diebenkorn, and Sonia Delaunay. Here are a few highlights to look out for during the live auction on Bidsquare!
1) Sonia Delaunay
Lot 421, Sonia Delaunay, Composition, Gouache and charcoal on heavy paper, 1967; Estimate $25,000-$35,000
2) Jeff Koons
Lot 422a, Jeff Koons, Puppy, Glazed porcelain, 1998; Estimate $8,000-$12,000
3) Joan Miró
Lot 455, Joan Miró, Makemono, Lithograph in colors on natural Canton silk mounted on silk, 1956; Estimate $15,000-$25,000
4) Joseph Beuys
Lot 409a, Joseph Beuys, Capri-Batterie, Mixed media construction, 1985; Estimate $8,000-$12,000
5) Donald Sultan
Lot 417, Donald Sultan, Orange Flowers, Feb. 20, 2006, Conte crayon and flock on paper, 2006; Estimate $8,000-$12,000
Browse Stair's Joseph Beuys: Prints & Multiples catalog coming up on June 7, 2019; Art & Design on June 7, 2019 and 20th Century, Modern & Contemporary Fine Art on June 8, 2019.
Don't have a Bidsquare account? Sign up here!
Be in the know about upcoming auctions and exciting post-sale results by following us on Facebook and Instagram.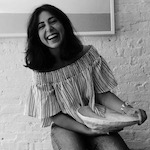 Jessica Helen Weinberg | Senior Content Editor at Bidsquare