We are just past the halfway mark of Asia Week and there are still many auctions left to go! On March 25, Leslie Hindman Auctioneers in Chicago, IL will be featuring their Asian Works of Art sale.
This auction contains over 600 lots, with many of the objects originating from China, Japan, Korea, South East Asia, India, and the Himalayan region. The categories include jade carvings, furniture, porcelains, paintings, bronzes and religious sculptures.
This sale is highlighted by a selection of important Chinese bronze vessels from a Chicago collection. One of the major objects is lot 137, an archaic bronze vessel from the Eastern Han Dynasty (25-220). While many of these types of vessels are plain on their exterior, this particular example has a unique design. The body is decorated with lozenges and lappets while the mouth has an incised motif of running deer. This is all flanked by large handles mounted with a chain.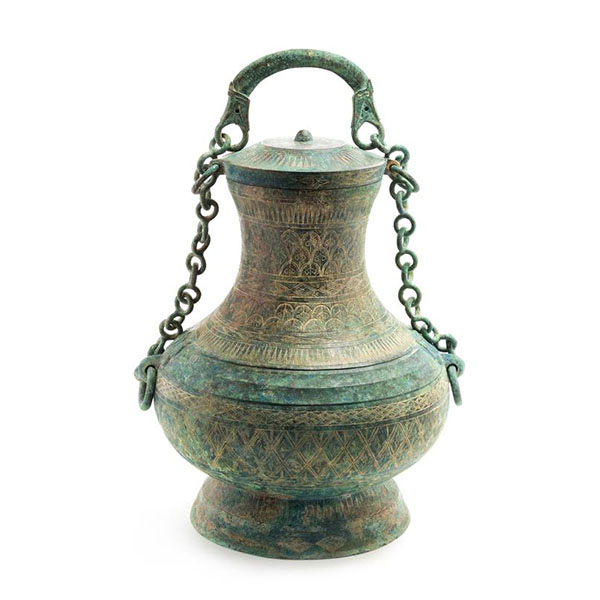 Lot 137, An Archaic Bronze Ritual Wine Vessel, Tilianghu; Estimate $80,000-$120,000
In addition to its rarity, the provenance for this vessel stands out. It was exhibited in the Hong Kong Museum of Art from 2001-2006 and in Hong Kong's prestigious Min Chiu Society from 1999-2000. It also went through the hands of prestigious New York dealer J. J. Lally. This outstanding vessel is accompanied with an X-ray scan and features a reasonable estimate of $80,000-$120,000.
Lot 138, A Large and Rare Bronze Tripod Tureen and Ladle; Estimate $15,000-$25,000
Another interesting archaic bronze vessel from the same collection is lot 138, a tripod tureen and ladle from the Tang Dynasty (618-907). The form of this object is simply elegant – the round body is perfectly proportioned and balanced on three slender legs. This important vessel was also sold by J. J. Lally, and was exhibited at the Idemitsu Museum of Arts in Tokyo.
Lot 265, A Gilt Bronze Handled Dagger with White Jade Scabbard; Estimate $50,000-$60,000
Another highlight from the Leslie Hindman auction is lot 265, a bronze handled dagger. Dated to the early 18th Century, the style of this dagger is related to imperial examples of the Qing Court. The handle of the dagger is well-cast from gilt bronze and contains densely lotus and scrolling vine patterns.
The white jade scabbard is finely carved with florals and longevity fungus, and it is fitted with a shou (longevity) character. Because of its auspicious symbolism and fine craftsmanship, this dagger was most likely used for ceremonial purposes.
Lot 577, A Fine Japanese Satsuma Vase; Estimate $3,000-$5,000
In the Japanese category is lot 577, a fine satsuma faceted vase signed Kinkozan. Estimated at $3,000-$5,000, this vase is beautifully painted with a gold millefleur ground. The four sides each depict florals representing the four seasons. These types of vases mark the pinnacle of Japanese Meiji period artisanship and would mostly have been exported to the Western markets.
Lot 627, A Khmer Baphuon-Style Limestone Torso of Vishnu; Estimate $40,000-$60,000
The Leslie Hindman auction also offers lot 627, a Khmer Baphuon-Style Torso of Vishnu. Vishnu is the principal Hindu deity and associated with absolute truth. He is a protector and a preserver when the world is threatened by destructive forces. This handsome sculpture is elegant in its carving and modeled after earlier 11th Century Angkor Cambodian examples, and would be attractive to both collectors and interior designers.
Click here to view the full catalog of Leslie Hindman Auctioneers sale on March 25th.
Don't have a Bidsquare account? Sign up here!
Be in the know about upcoming auctions and exciting post-sale results by following us on Facebook and Instagram.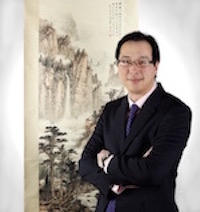 Anthony Wu is an Asian Art consultant, researcher, writer based in Toronto, Canada. After working eleven years as the Asian Art specialist at two of Canada's largest regional auctions, he started his own art advising firm where he consults for various auction houses, museums, and private clients in Canada and the USA. He is a certified Chinese Fine Art appraiser with the Appraisers Association of America.