Mid-century modern design hasn't seen a dim day in desirability since its conception in the 1940s. In addition to experimenting with materials and inventive silhouettes, the overarching appeal of modernism rests in its straightforward utility and clean concepts that click. This is especially true for lighting. Lamps don't have to be busy to make a statement and these upcoming bulb holders are anything but bleak.
Beginning on February 23rd, Rago will host their 3-Day Unreserved sales (Session 1, Session 2, Session 3) posing an exciting opportunity for those looking to score authentic mid-century modern designs for much less than usual. In an unreserved auction, there are no "safety net" prices keeping you from winning an item at the highest price (no matter how low) that's offered. No, this is not too good to be true, and that's why we're calling out several designs that you should be plugging in bids for!
Lot 730, Achille and Pier Giacomo Castiglioni; FLOS, 'Taccia' adjustable lamp, Italy, 1960s; Estimate $1,000 - $1,500
Resembling a classical column, the bottom half of this Italian design merges with an unconventional, bowl shaped dome; you can even say it 'FLOS' nicely. This sought after 'Taccia' lamp was put into production in 1962 and has been conveying the luxurious side of lighting design ever since.
Lot 728, Joe Colombo; Oluce, 'Spider' desk lamp, Italy, 1960s; Estimate $300 - $500
Founded in 1945, Oluce is the oldest Italian design company (specifically lighting oriented) still in business. This cherry red, no frills desk italian lamp is wonderfully blunt - a lamp, is a lamp, is a lamp!
Lot 731, Studio Tetrarch; Valenti Luci, 'Pistillo SP-Light' tablelight/wall sconce, Italy, 1969; Estimate $300 - $500
When translated from Italian to English the 'pistillo' or 'pistol' refers to the female organs of a flower, after which this unique design is named. Determining how to display it, either on a table or as a wall sconce is entirely up to you!
Lot 832, Shiro Kuramata; Yamagiwa, Oba-Q K-Series "ghost" table lamp, Japan, 1970; Estimate $500 - $700
Formed by melted acrylic, the Oba-Q K-Series lamp, or "ghost" lamp, gives off a soft glow as if its' light source is floating from underneath a sheet. Draped in personality and a quirky sense of humor, this lamp is simply phan-tastic!
Lot 1986, Modeline, Tall table lamp, USA, ca. 1960s; Estimate $300 - $500
Coming in a typical, mid-century modern choice of teak wood, this tall table lamp stands at 38" high. Complete with a drop down ball chain, it's easy to picture this fella warming up any home environment.
Lot 829, Pierre Cardin, Large hemispheric table lamp, France, 1970s; Estimate $500 - $700
Known for his avant-garde style and Space Age fashion designs, Pierre Cardin also saw success in the home furnishing field. His sleek, geometric pieces are especially coveted.
George Nelson, Cigar Bubble wall sconce, Los Angeles, CA, 20th c.; Estimate $250 - $450​
As one of the founders of American modernism, George Nelson would rise to become an influential architect and the Director of Design at Herman Miller from 1945-1972; producing some of the most iconic designs of the 20th century.
Nelson designed his first 'Cigar Bubble' in 1952 by wrapping steel wires around in a cylinder and then spraying the form with translucent plastic. This piece, comprised of walnut, nickel and parchment gives off a calming glow well suited for the bedroom.
Don't miss out on your chance to own an original! With over 100+ lamps and lighting fixtures to choose from, the Bidsquare audience is bound to be lighting up the auction block at Rago!
Click here to browse the full catalog for Rago, Session 1 coming up on February 23rd; Click here to browse the full catalog for Rago, Session 2 coming up on February 24th; Click here to browse the full catalog for Rago, Session 3 coming up on February 25th
Don't have a Bidsquare account? Sign up here!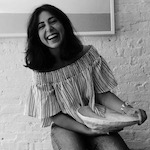 Jessica Helen Weinberg | Senior Content Editor at Bidsquare
Be in the know about upcoming auctions and exciting post-sale results by following us on Facebook and Instagram.