It is virtually impossible to imagine modern furniture design without the prolific achievements of Charles and Ray Eames. The basic sentiment that evolved during the mid-20th-century, that strong design should be made simply and affordably, spawned an exciting and infinitely fertile ground for many of the iconic solutions still being manufactured today. The joy and influence that practical architecture and furniture could have on ones life resonated with Charles and Ray Eames and became an integral part of their process. They improved upon and discovered all aspects of the effects that design had on the individual, and through their creative partnership and marriage, Charles and Ray Eames eclipsed their vows – in many more ways than one.
In this week's 'Bidsquare Picks' we're sharing essential designs by Charles and Ray Eames coming up at auction this spring. Presented by two renowned auction houses in the genre of 20th-century design, Rago and Wright, these selections 'eame high' within the design legacy of Charles and Ray Eames and their vital partnership with Herman Miller.
Lot 107, Charles and Ray Eames, ESU 400-C, Herman Miller, USA, 1950; Estimate $15,000 - $20,000
When it comes to mid-mod storage units, the 'ESU 200-C' is one of the most desirable. Charles and Ray Eames drew inspiration from the materials and modular spacing designs commonly seen in warehouses and factories. Interchangeable and cost effective, the 'ESU 400-C' was a highly customizable product. Removable colored panels and different surface options made it accomodating for home and/or office spaces. This particular 'ESU 400-C' was gifted to the ceramicist, Adolf Odorfer whom Charles Eames had met in Mexico in the 1930s.
Lot 2208, Charles & Ray Eames, Lounge Chair, Model no. 670, Herman Miller, 2000s; Estimate $1,800 - $2,400
Perhaps the most widely known design, the Eames Lounge Chair has been in constant production since its design debut in 1956. The molded plywood, wonderfully wrapping around its soft leather cushion, is another trademark of Charles and Ray Eames. Their persistent use and refinement of molding plywood, beginning in the 40's, led to the comfortable, chic style of this design as well as many other favorites.
Lot 121, Charles and Ray Eames, PACs-1s, Pair, Herman Miller, USA 1950/c. 1971; Estimate $700-$900
Along with spearheading the use of molded plywood, Charles and Ray Eames also used fiberglass to realize their goals of durable, functional and visually appealing designs. Interestingly, when the fiberglass production proved unhealthy for the environment, Herman Miller switched to a safer plastic that is now being used for modern day versions of the 'fiberglass' chairs.
Lot 125, Charles and Ray Eames, LTRs, Set of three, Herman Miller, USA, 1950; Estimate $700-$900
Referred to as an 'LTR' (Low Table Rod Base) these versatile tables were abundantly used by Charles and Ray Eames themselves. Many of these small, LTR tables can still be found in their home, the 'Eames House' which was which was designed and constructed by the couple in 1949 as the ultimate concept home for modern living.
Lot 109, Charles and Ray Eames, DCWs, Pair, Evans Products/Herman Miller, USA, 1945; Estimate $3,000 - $5,000
If you ever have the opportunity to sit on a DCW (Dining Chair Wood) seat, please do so. Although, there is no fluff provided between your bottom and the molded plywood, you will be pleasantly surprised at the roomy comfort that these unassuming chairs provide.
Click here to browse all of the upcoming designs by Charles and Ray Eames, coming up on Bidsquare this spring.
Click here to browse Wright's, American Design sale coming up on March 29th.
Click here to browse Rago's, Remix: Contemporary + Classic sale coming up on April 7th.
With new auctions added daily, we're always ripe for the pickin! Be sure to check into 'Bidsquare Picks' each week for a speedy look at our upcoming selections!
Don't have a Bidsquare account? Sign up here!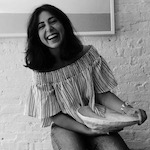 Jessica Helen Weinberg | Senior Content Editor at Bidsquare
Be in the know about upcoming auctions and exciting post-sale results by following us on Facebook and Instagram.