Do you stare longingly at your Home Ideas Pinterest board and wonder how you can actually pull a room like that together? It inspires you so much! But why? What is it about the mixture of furniture and art that brightens the bulbs in your head? The truth is, the more creative the room the less likely it is that it all came from one store.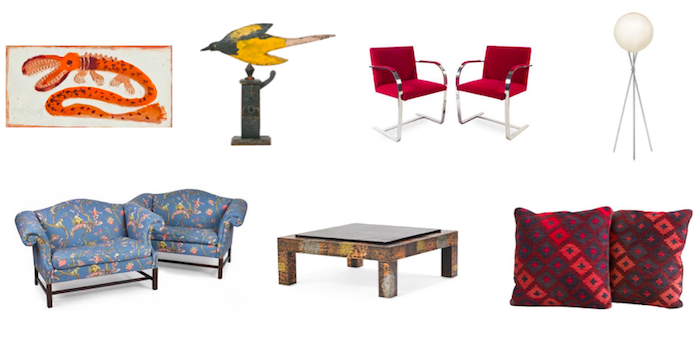 The critical difference between retail shopping and bidding at auction is discovery. The breadth of antique, vintage and modern items found on Bidsquare points the individual down a path of invention. By regularly replenishing and rotating inventory, Bidsquares online auction catalogs include fresh to market options with both high end and inclusive price points.
The encouragement to discover and easily access rare and authentic items coming up at auction is the peanut butter to your home decor jelly sandwhich.
Image: Elle Decor, Living room of designer Erin Beatty and filmmaker Lex Sidon, West Village, NYC
Park the shopping cart and restock that palette knife landscape painting you found in the sale bin; were going to teach you a few things. Here are some pointers on how to piece together a West Village inspired oasis by combining folk art and modern design.
Lot 148, Jimmy Lee Sudduth (American, 1910-2007) Painting on Wood; Sold for $698.50
Whats on the walls? In this particular set up, Folk Art takes all the credit. Generally defined as artists that create without any formal training, folk art has become increasingly popular for its fluid gestures and unconventional approach to subject, composition and color palette.
See our previous blog: A Technicolor Titan: The Collections of Jonathan Demme and Ford Wheeler to learn more about poking around for pieces like this.
Lot 360, Pair of George III Style Mahogany Love Seats; Sold for $2,337.00
Newly upholstered antiques embody old-world charm without the worry of a colony of dust bunnies hopping around underneath. Choosing furniture with a floral motif is easy on the eyes and gives off that effortless bohemian flare. Click here to view similar items.
Lot 396, Folk Art Carved Bird on Water Pump; Sold for $153.75
Handmade carvings, castings, signs and weathervanes can also be categorized as Folk Art. While some items offer hints or clear indications of their maker, many objects remain unsigned. The mystery of the maker is synergistic with Folk Arts allure and leaves rarity at the forefront of its value. To find similar items, browse terms like cast iron, toys, folk and weathervanes.
Lot 258, Ludwig Mies Van Der Rohe; Knoll, Set of (12) BRNO chairs; Sold for $3,276
It's hard to find a situation where mid-century modern wouldn't work. Adding sleek and simple designs to a room with different themes flying around can be a smart way to anchor the space. Say more with a little bit less. Browse similar desings by Knoll coming up this month.
Lot 1024, Paul Evans, Patchwork Coffee Table, USA, 1970s; Sold for $3,500
Take your coffee table down a notch - height wise. This format works beautifully in a busy room - not only does it leave more room to focus on the surrounding items but it provides more air space for accessories like book stacks, flowers (no more sunflower walls getting in the way of peoples faces) or anything else you want to add. Be on the look out for designs by Paul Evans to replicate the vibe.
Lot 356, Pair of Belouchi Mounted Pillows; Sold for $64.00
Believe it or not, browsing decorative pillows at auction can be extremely entertaining (grandmas pillows are not so dreary after all) Drawing from the colors of the larger pieces of furniture and tying them back to smaller details is always a plus. Patterns ranging from pieces of flemish tapestries, Persian and Kilim rugs and/or needlepoint styles lets you to get as funky or as concise as you wish.
Lot 1734, Robert Sonneman, Floor lamp, USA, 1970s; Sold for $704.00
Its time to turn on the light! Modern examples of lighting like this Robert Sonneman floor lamp have a straight forward mission; form and function. The frosted globe shade produces an enjoyable ambience and are reminiscent of the post-war style street lamps. See the floor lamps available on Bidsquare this month.
You dont have to force originality into a room when items speak not only for themselves but also define where your interests lie.
Browse upcoming catalogs that feature similar styles: Rago Auctions, Unreserved Session 2 (08/26), Unreserved Session 3 (08/27) | Skinner Auctions, 20th Century Design (08/24) | Potter & Potter Auctions, Coin-Op, Toy & Advertising (09/09)