Coinciding with New York's Fall Asia Week is Skinner's September 14 Asian Works of Art Auction in Boston, MA. This sale features over 550 lots of Asia Art from China, Japan, Korean, the Himalayan Region and the Islamic World. All categories are considered including paintings, ceramics, porcelain, jade carvings, furniture and textiles.
Lot 547, Pair of Huanghuali Yoke-back Armchairs; Estimate $60,000-$100,000
The most anticipated highlight is lot 547, a pair of Chinese huanghuali yoke-back armchairs. These elegant chairs are dated to the 17th Century and were featured in the exhibition Classic Chinese Furniture, published by the Chinese Furniture Research Institute, LLC, in Concord, New Hampshire (2004).
The pair of chairs are elegant in their simplicity and graceful lines. Huanghuali 黄花梨, which translates to 'yellow flowering pear wood' is a rare species of Chinese rosewood that was primarily used to construct domestic furnishings and scholarly objects. This type of wood is characterized for its honey-orange colour and wonderful graining.
In addition to their graceful profile, the chairs also feature a wonderfully carved roundel of archaistic dragons on the back splat. These chairs feature an estimate of $60,000-$100,000.
Lot 335, Pair of Spinach Green Covered Vessels; Estimate $50,000-$70,000
The next highlight at Skinner is lot 335, a pair of Chinese spinach green covered vessels. Estimated at $50,000-$70,000 these attractive cylindrical vases pay homage to bronze vessels of the Shang to Warring States Period from ancient China.
They both feature detailed relief carvings of archaistic animals, taotie monster masks, and raised heads in the form of mythical beasts. Each vase bears a four-character Qianlong mark (1736-1795) to the base, but a 19th Century homage to this 18th Century reign. These jade vases were sold at Skinner in October of 2006 and are now offered again in the same saleroom thirteen years later.
Lot 377, Cloisonne Vase, Japan, Ando Jubei; Estimate $10,000-$20,000
In the Japanese category of the auction is lot 377, a blue ground cloisonné enamel vase decorated with branches of plum blossoms. The mark on the base states the vase was made in the workshop of the famous artisan Ando Jubei (1876-1953).
Measuring just over 16 inches high, the large size and attractive design suggests that this vase would have been exported to the Western market - either to an American or European audience. The estimate is at $10,000-$20,000.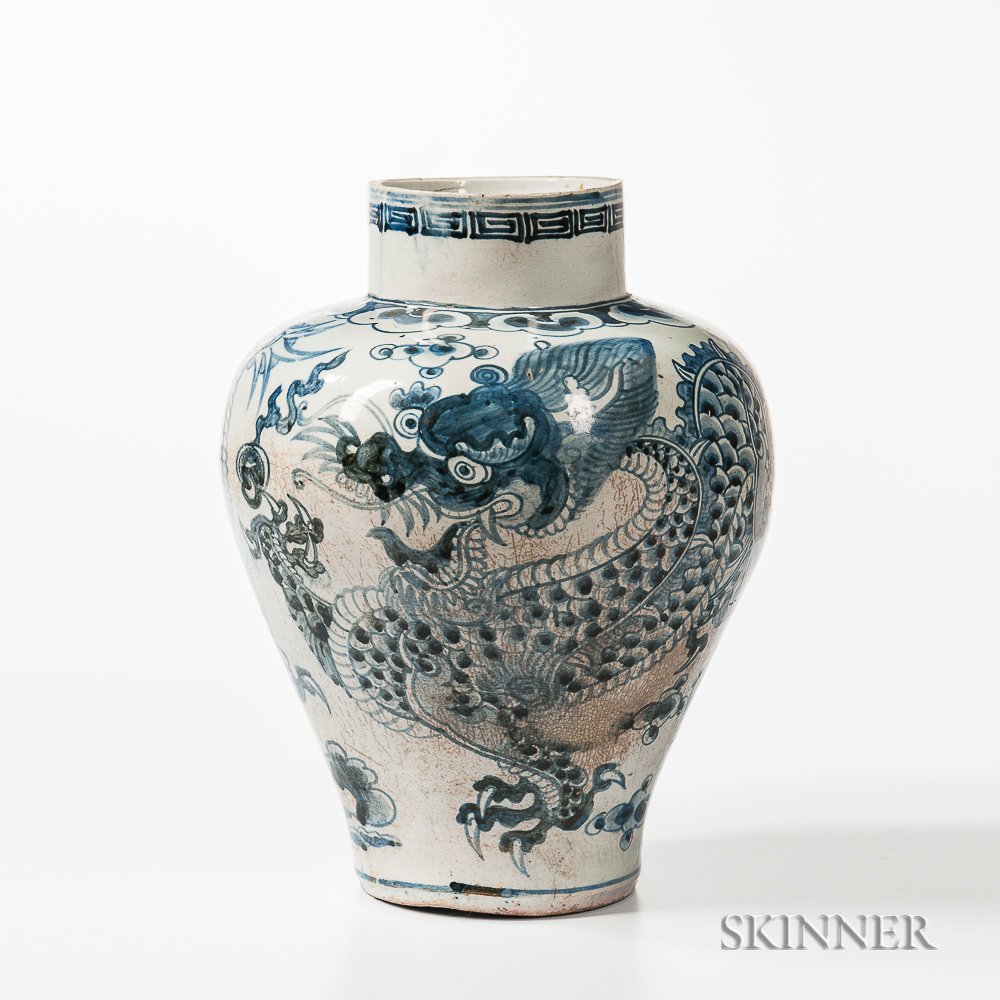 Lot 64, Blue and White Dragon Jar; Estimate $2,000-$3,000
Finally at the Skinner sale is lot 64, a Korean blue and white dragon jar. These types of jars seldom appear on the market since most of them are already part of museum or private collections. The vase depicts a fierce four-clawed scaly dragon with sharp fangs and bulging eyes, typical of later examples from the Joseon Dynasty (1392-1897).
This dragon vase was acquired in Korea during the early 1960s by Mrs. Poul Stengaard Hans, Chief of Mission at the National Medical Center in Korea. It was inherited by the present owner and is now up for auction with a conservative estimate of $2,000-$3,000.
Click here to view the full catalog of Skinner's sale on September 14.
Don't have a Bidsquare account? Sign up here!
Be in the know about upcoming auctions and exciting post-sale results by following us on Facebook and Instagram.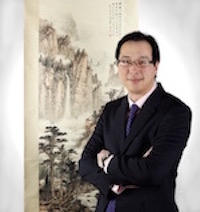 Anthony Wu is an Asian Art consultant, researcher, writer based in Toronto, Canada. After working eleven years as the Asian Art specialist at two of Canada's largest regional auctions, he started his own art advising firm where he consults for various auction houses, museums, and private clients in Canada and the USA. He is a certified Chinese Fine Art appraiser with the Appraisers Association of America.