This fall's edition of Asia Week New York proved the market for Asian Art is still robust with over USD 55 million worth of artworks being auctioned between the 7th and 14th of September.
In particular, strong prices were realized for objects with outstanding provenance, rarity and imperial connections in the categories of Chinese jade carvings, traditional scroll paintings, porcelain, religious sculptures and precious metalworks.
Now, the Asian Art world directs its focus on the regional auction houses across North America. First up is the sale of Asian Works of Art on September 24 at Hindman Auctions in Chicago IL. Formerly Leslie Hindman Auctioneers, this is the company's first major Asian Art auction since their rebranding in April of 2019.
Hindman Auction's sale features over 540 lots from China, Japan, South East Asia, India, and the Himalayan Region, and are led by three works painted by major Chinese modernist masters of the 20th Century.
The first two of these paintings are by Wu Guanzhong 吳冠中 (1919-2010), one of the most sought-after Chinese artists over the past fifteen years. Even though he studied electrical engineering in university, he fell in love with art and soon started a new career in this field.
Wu received his big break in 1947 when he won a scholarship to Paris and studied at the Ecole Nationale Supérieure des Beaux Arts.
In Paris he learned the French tradition of painting. This is also where the artist's works became heavily influenced by modern movements like Post-Impressionism and Fauvism. He returned to China in 1950 where he began teaching and painting landscapes and town scenes that synthesised European modernist and Chinese traditional aesthetics.
Lot 301, Wu Guanzhong, Bridges and The City oil on canvas; Estimate $120,000-$160,000
Both lot 301, Bridges and the City, and lot 302, Jiangnan, were painted in 1996 and reflect the artist's later style. While one painting depicts a modern city, the other features traditional Chinese houses along a river. The forms are near abstract with thick brushstrokes throughout to showcase larger forms and depth. Thinner lines and patches of bright color are juxtaposed to delineate details such as light, windows and figures.
Both lots 301 and 302 were consigned by an important Private Chicago Collection and were published in 'In the Memory of Wu Guanzhong, Selection of Oil on Canvas Paintings,' by Rong Baozhai Publishing House (2013). Bridges and the City and Jiangnan carry a conservative estimate of $120,000-$150,000 and $80,000-$120,000 respectively.
Lot 303, Lin Fengmian, Lady in Blue Dress ink and color on paper; Estimate $50,000-$60,000
Lot 303 is by another Chinese modernist master, Lin Fengmian 林風眠 (1900-1991). He was an early teacher of Wu Guanzhong and one of the first Chinese painters to study in Paris by attending the Ecole Nationale Supérieure des Beaux Arts in 1920.
Using a fusion of Chinese and Western techniques, he is best known for his depictions of women, both clothed and nude, Chinese opera figures, and landscapes. This example, Lady in a Blue Dress, depicts a female subject dressed in traditional Chinese attire, but with clear European Post-Impressionist influences.
Lin's painting is estimated at $50,000-$60,000 and is from the collection of Dora Wong, a renowned Shanghai/Hong Kong fashion designer who now resides in New York. She is a notable collector of Chinese paintings, furniture, porcelain and works of art.
Lot 108, A Celadon Jade Figure of a Recumbent Qilin; Estimate $10,000-$20,000
Also in Hindman's sale is lot 108, a Chinese celadon jade figure of a recumbent Qilin. Estimated at $10,000-$20,000, this mythical beast is powerful in stature and massive in size. It resembles imperial jade carvings from the 18th Century and the creature is meant to bring prosperity and good fortune to a household. This object is from the Collection of the Halim Time and Glass Museum in Evanston IL.
Lot 453, A Gilt Lacquered Hardwood Displaying Cabinet; Estimate $10,000-$12,000
Finally at Hindman Auction is lot 453, a Chinese gilt lacquered display cabinet. Attractive in its design and function, the lacquered back and side panels are meticulously decorated with gold florals and landscape designs.
The front panels and drawers feature relief carvings of seasonal florals and a scene of mounted figures crossing a mountainous passage. The edges and frame of the cabinet are inlaid with thin silver designs throughout. This breakfront cabinet was acquired in Montreal during the 1970's and was consigned by a prestigious Los Angeles owner. It is estimated at $10,000-$12,000.
Click here to view the full catalog of Hindman's sale on September 24th.
Don't have a Bidsquare account? Sign up here!
Be in the know about upcoming auctions and exciting post-sale results by following us on Facebook and Instagram.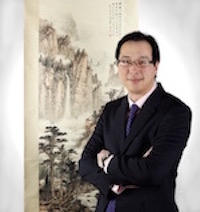 Anthony Wu is an Asian Art consultant, researcher, writer based in Toronto, Canada. After working eleven years as the Asian Art specialist at two of Canada's largest regional auctions, he started his own art advising firm where he consults for various auction houses, museums, and private clients in Canada and the USA. He is a certified Chinese Fine Art appraiser with the Appraisers Association of America.