On February 3, 1908, eight artists, disillusioned with the prevailing status quo, launched an exhibition at New York's Macbeth Galleries that would change the face of American art.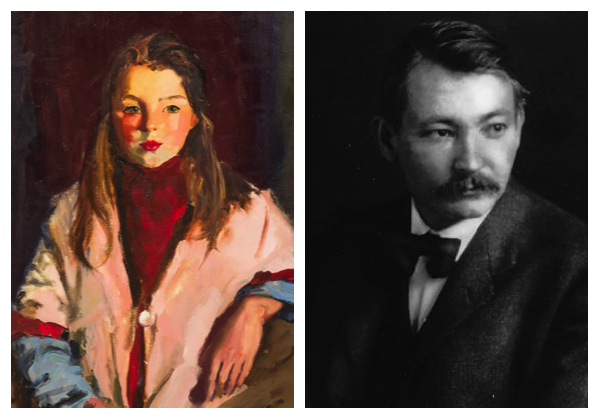 Lot 17, Bridget Lavelle (left) by Robert Henri (right)
Previously, artists submitted their works to academic juries and experts before they were showed to the public. The group, who came to be known as The Eight, sidestepped the strict rules laid down by the National Academy of Design, relying instead on press and the public to promote their exhibition.
The show was a sensation, with thousands of people crammed inside the gallery and lined up outside, desperate for a glimpse of the paintings. When the show closed on February 19, the way artists exhibited their work was changed forever.
Lot 25, Ernest Lawsons Reflections
The significance of The Eight and their groundbreaking show comes to light Wednesday, May 20 when 34 paintings from the collection of Kansas City native Richard Levin go under the hammer. Mr. Levin placed particular emphasis on acquiring paintings that paid homage to his American roots – The Eight, who believed that to be independent, American artists they had to paint American life, were a perfect fit.
Lot 17, Bridget Lavelle, is by the group's leader Robert Henri. It was Henri, freshly back from Europe and teaching at the New York School of Art, who first expressed his rejection of the genteel traditions of academic painting and impressionism, and turned his attention to urban realist subjects.
Works by The Eight in the sale include Lot 15, Everett Shinn's Colored Banjo Player; Lot 25, Ernest Lawson's Reflections, and Lot 14, John Sloan's Playing to Empty Seats.
Look now at the full catalog for Leslie Hindman Auctioneers Richard Levin Single Owner sale, set down for Wednesday, May 20.