Let me tell you a secret. As much as we're used to seeing steady waves of auction catalogs crop up on our platform, there was something about the latest group of Rago's September design auctions that made myself and the rest of the Bidsquare team gasp. Our combined excitement of clicking through the items, one stunning object after the next, and the pleasure of knowing that our audience would have an equally passionate field day was a lot to take in. What can I say? We love what we do! However, what we didn't yet know was how big of an impact these sales would have on Bidsquare history come auction day.
There were four major sales taking place at Rago on the weekend of September 22-23; the Early 20th C. Design, featuring The Reese Collection of Lalique Glass (09/22), Mid-Mod (09/22), Modern Design (09/23) and Modern Ceramics + Glass (09/23) representing an impressive selection of 896 world-class items from the most sought after talents in the realm of design.
For our online bidders, the first two sales set a favorable pace. In the Early 20th C. Design, featuring The Reese Collection of Lalique Glass sale Bidsquare scored a perfectly crumpled George Ohr vase for $12,160 (lot 247) as well as a ceramic panel (lot 318) dated from 1916 by Maria Longworth Storer for a healthy $10,880 - amongst many other pieces. As for the Mid-Mod auction, Bidsquare casually scooped up items such as a 56-piece 'Diamond' pattern flatware set (lot 554) by Gio Ponti for $7,680 as well as a 'Lounge Chair Rocker with Arm' (lot 502) by the American craft movement titan George Nakashima for a reasonable $6,400. Then the second round of auctions arrived to blow the auction house down.
Lot 1088, Gabriella Crespi, Elisse Coffee Table, Italy, 1970s; Sold for $51,200
Our top selling lot that weekend, as well as the fifth highest result in the sale, came in the form of an ultra sleek, Italian coffee table by Gabriella Crespi. The Milanese designer who passed away in 2017, at the age of 95, spent her lifetime blending an alluring mix of high-end, cosmopolitan aesthetics with her own futuristic sensibilities. The 'Elisse Coffee Table' (lot 1088) consisting of brushed steel and brass, functions with sculptural prowess in it's ability to transform a compact oval format into an elegant three-tiered table. Known for her curious taste for unexpected details, Crespi's eye for blancing tone, material and function propelled our bidders forward to realize a final price of $51,200 - but there's more.
Lot 1182, Albert Paley, Unique dining table, "Forged Table," Rochester, NY, 1979; Sold for $33,280
There are many artists that come to mind when we think of Rago and Albert Paley is certainly one of them. Not only has Rago been handling Albert Paley's work at auction for nearly two decades, but they recently sold 60 archived metalwork sculptures, furnishings and jewelry, as well as lithographs, sketches and maquettes in the first sale of its kind during The Albert Paley Archives Part I: Creating a Perspective sale on January 21, 2018. It was during that sale that we noticed our online bidders had an appetite for Paley. The platform took home 12 lots that day including (lot 958) a six-foot sculpture titled "Evanesce," from 2010 for a whopping $41,600. This time around, we were pleased to see the interest continue with (lot 1182) a rather simple, as far as Albert Paley's work goes, dining table that climbed a few hairs above its high estimate of $29,000 for a total of $33,280.
Read 'Bidsquare Scales Up at Ragos Weekend Sale' to see other works by Albert Paley that have been awarded to the platform.
Lot 1167, Wendell Castel, Wall-hanging mirror with drawer, 1977; Sold for $30,720
So long as we're talking about some of Bidsquare's frequently fancied designers, Wendell Castel is also racking up an impressive index all his own. This imaginative shaped mirror nearly doubled in price against a high estimate of $16,000 finally selling to the platform for $30,720 - a reflection (pun intended) of how determined some of our collectors can be to charge against an active floor.
A visionary in the field of sculpture and furniture design and known as the father of the art furniture movement, Bidsquare is truly honored to have not only won lot 1167 this past weekend but to have also sold an 'Adjustable Piano Bench' (lot 1160) for $20,480 this winter as well as a 'Sculptural Umbrella Stand' (lot 3141) for $54,400 in Rago's Modern Design sale last year.
Click here to read 'Bid, Bang, Boom! Bidsquare's Weekend Wins at Rago' or 'Bidsquare Scales Up at Ragos Weekend Sale' read more on these mentioned items.
Lot 1198, Silas Seandel, Trio of Amoeba Coffee Tables, 1981; Sold for $26,880
It is just me or is there a pattern forming here? This trio of bronze tables seems to incorporate all of the previously featured metal furnishings - not only in terms of materials but in the interactive elements as well as the soft organic edges seen in Wendell Castle's wooden mirror. Perhaps, there was a similar air of attraction surging through the ethernet that day!
Born in New York City, where he continues to create his one-of-a-kind sculptural furnishings, the designer behind our fourth highest sale that day, is Silas Seandel. All of his pieces, including the one seen here (lot 1198) are handmade at his studio and are void of any enamels or veneers where the finish is naturally achieved through texture.
In addition to these top selling pieces mentioned above, Bidsquare saw four more items sell above the $20,000 mark that day; Lot 1055, Pierre Jeanneret, Six Library Chairs; $24,320 / Lot 1165, Judy Kensley McKie, Massive Table/Desk; $23,040 / Lot 1284, Vladimir Kagan, Floating Seat and Back Sofa; $21,760 / Lot 1047, Phil Powell, Long Bench; $20,480.
Lot 1629, Stephen Rolfe Powell, Massive vessel from the Teasers series, Danville, KY, 1993; Sold for $19,200
Lastly, it would be a shame not to briefly mention the gorgeous glass works that sold to the platform during Rago's Modern Ceramics + Glass sale. The highlight being a colorful, 'Massive Vessel' (lot 1629) by Stephen Rolfe Powell bringing in a total of $19,200. Following close behind was a Dale Chihuly, 'Large Macchia' form (lot 1577) at $10,880 as well as an animated portrait bust from Hank Murta Adams titled "Frinky" that went for $10,880 to Bidsquare.
Tired us hearing us gloat? Well, not only did this Modern Design sale become the largest total amount sold at Rago in a single sale through Bidsquare since the launch of the platform in 2014 but the culmination of all four sales doubled the share, percentage wise, of the total amount sold through Bidsquare since Rago's last set of design sales in May 2018!
If you didn't get the chance to join us live last weekend, there's still time to snatch things up in Rago's 20th Century Design - Buy Now Auction, available from September 25th - October 9th, exclusively only on Bidsquare!
Want to see all of Rago's results from their September sales? Click here to dive right in!
Don't have a Bidsquare account? Sign up here!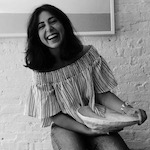 Jessica Helen Weinberg | Senior Content Editor at Bidsquare
Be in the know about upcoming auctions and exciting post-sale results by following us on Facebook and Instagram.